inco partner 2022 inspires with product inno­va­tions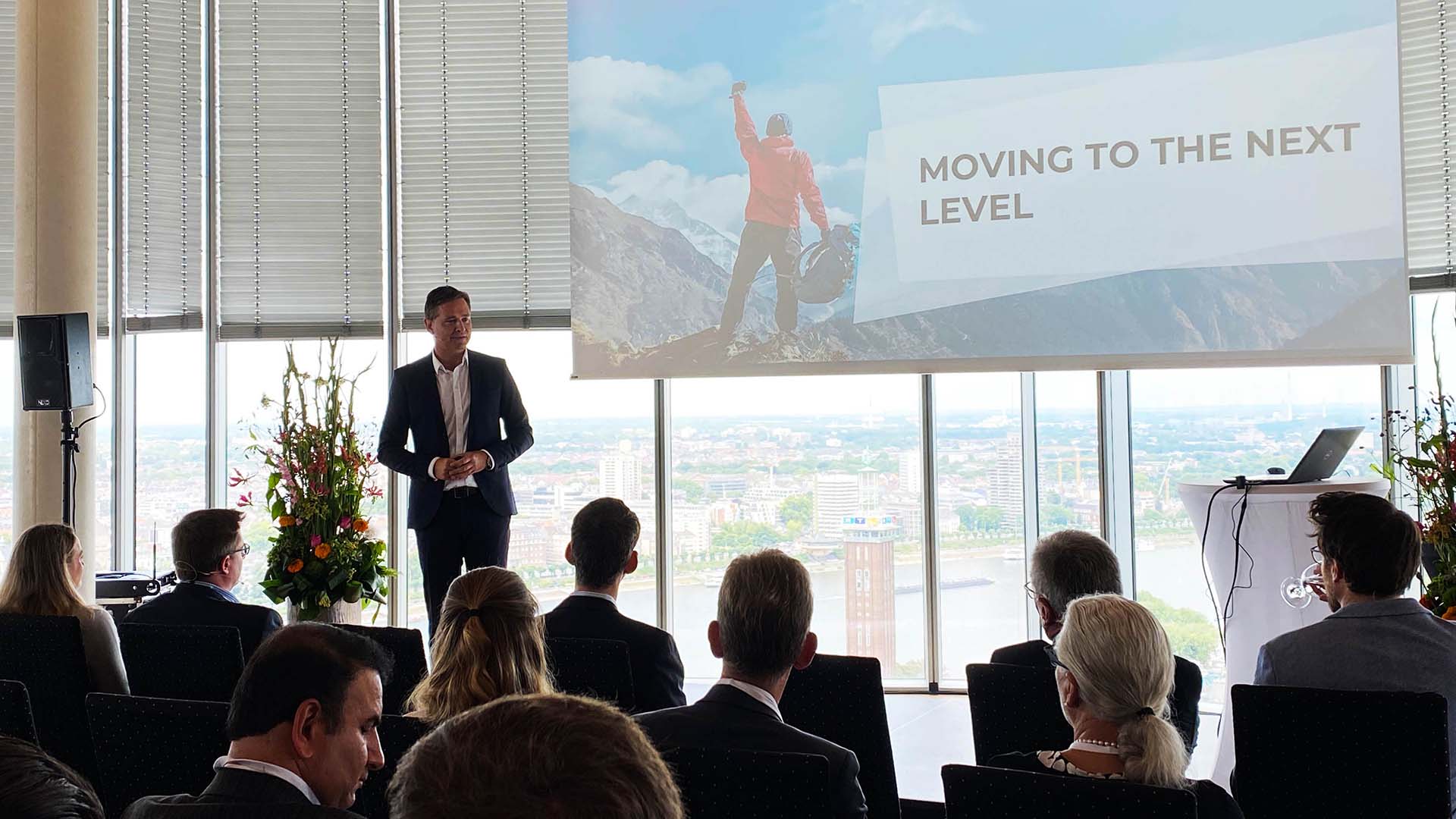 At the annual inco partner con­fe­rence, we brought together leading process con­sul­tants, software vendors and BPO service providers to share how new AI tech­no­lo­gies for intel­li­gent input manage­ment and process auto­ma­tion are taking our solutions to the next level.
At a height of almost 100 meters in the event location KölnSKY, the appro­xi­m­ately 100 par­ti­ci­pants were impressed not only by the inno­va­tions presented, but also by the spec­ta­cular view of the Rhine metro­polis.
Under the motto "Moving to the Next Level", the partners learned about the oppor­tu­ni­ties and potential of AI-based Cognitive Process Auto­ma­tion. The varied program with short pre­sen­ta­tions, live demos and expert inter­views spanned a range of important infor­ma­tion about the products and services to many useful tips and assis­tance for the business of the partners.
To kick off the event, Werner Weiss, Managing Director of Insiders Tech­no­lo­gies, intro­duced the essence of dis­rup­tive change with concise examples.
"If your solution strategy of today becomes the problem of tomorrow, you have to aim for the Next Level"
Weiss for­mu­lated a catchy indicator for the necessity and the right time for further deve­lo­p­ment. "The new pos­si­bi­li­ties of arti­fi­cial intel­li­gence are creating precisely this field of tension for dis­rup­tive change in many business processes. In many indus­tries, the cards are currently being res­huf­fled."
In order for partners to benefit from this deve­lo­p­ment, the speakers high­lighted the current trends and requi­re­ments in the area of Process Auto­ma­tion in the following pre­sen­ta­tions and demos and presented the cor­re­spon­ding solution approa­ches for them.
Modern response manage­ment with smart FLOW enables the inno­va­tive design of com­mu­ni­ca­tion processes in customer service and supplier manage­ment. New products and services in the areas of purchase-to-pay and order-to-cash offer exciting potential for both new customer acqui­si­tion and up & cross selling with existing customers. The new, deep-learning-based Cognitive Clas­si­fier achieves new levels of per­for­mance in document clas­si­fi­ca­tion by combining text and image clas­si­fi­ca­tion – for example, in incoming mail pro­ces­sing. The Insiders Cloud makes it par­ti­cu­larly easy for partners to use even complex AI processes. The Insiders Cloud already processes around 5 million pages per month – and the trend is rising rapidly.
The cloud model is par­ti­cu­larly inte­res­ting for partners with customers from the SME segment, as it creates access to tech­no­lo­gies that would otherwise only be appli­cable with signi­fi­cantly higher tran­sac­tion rates. This is also reflected in the impres­sive number of more than 750 new Insiders customers last year via partners.
However, the pre­sen­ta­tions at inco partner 2022 were just the start. For all new and improved products, Insiders will be offering com­pre­hen­sive kick-start workshops in the coming weeks, providing partners with an intensive intro­duc­tion to the new pos­si­bi­li­ties and the under­lying tech­no­logy.
"Our AI-based solutions enable companies to take auto­ma­tion to a whole new level. With inco partner 2022, we have given our partners ideas on how they can benefit from changing customer requi­re­ments in a dynamic market envi­ron­ment with our inno­va­tive products and services," explains Dr. Rainer Czech, Head of Channel Manage­ment, at Insiders Tech­no­lo­gies.